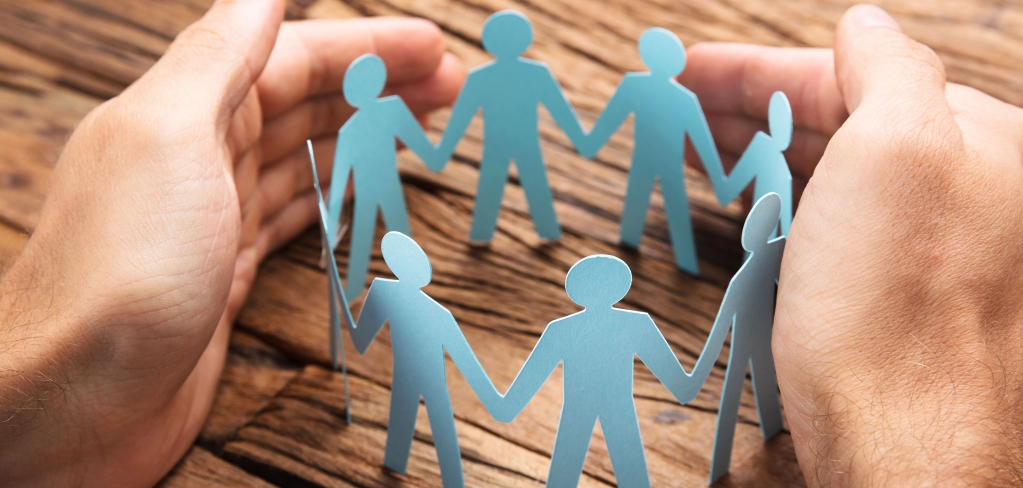 Podcast: SEI salutes our veterans
A conversation with Tom Palmer and Melissa Myers, co-leaders of the SEI Salutes affinity group.
Podcast: SEI salutes our veterans
In this episode, Tom Palmer and Melissa Myers, both of whom co-lead the SEI Salutes affinity group, discuss the history and mission of SEI Salutes, and the importance of purposely recruiting veterans and supporting them, and their families, as they transition to civilian careers.
Enjoy this episode, SEI salutes our veterans.
Announcer: Hey everyone. Thanks for joining us back at The Intersection, a podcast that brings you candid conversations with members of our community and leaders in our industry. Enjoy today's episode.

Krista Deguffroy: Hello and welcome. I'm Krista Deguffroy and I lead our inclusion practices here at SEI. Today we're joined by Tom Palmer, Technology Manager, Global Technology Services at SEI, and Melissa Myers, SEI Wealth Platform Configuration Lead. They both serve as board members for SEI Salutes, our employee run affinity group at SEI that honors, celebrates, and supports veterans working at SEI and veterans in the community. Tom and Melissa, thank you so much for joining us today.

Melissa Myers: Thank you.

Tom Palmer: It's great to be here.

Krista Deguffroy: It's great to have you on The Intersection, especially in recognition of veteran day in the U.S. and Remembrance Day in the UK and Canada. So to kick off our conversation today, I was hoping you could tell our listeners a little bit about how SEI Salutes came to be and the mission of the group.

Tom Palmer: So SEI has always had its hand in helping military and veterans causes. A group of veteran employees found each other at SEI about 10 years ago, and we started working together to try and figure out how we can make a difference in the SEI community. In our search, we ended up running into several people that were actually doing pro bono work from our legacy planning team that were actually helping out Gold Star Families do estate planning for when their loved one had passed away and they actually get their benefits. SEI figured out a way they can actually make a difference in helping those families recover from the loss of their loved ones.

So the veterans at SEI realized there was a need at the time for SEI to add diversity to our workforce. And we also appreciated the work ethic that we were seeing coming from our various veteran employees. So we realized that we wanted to do whatever we could to help bring more veteran presence into the SEI workforce and add to it's already diverse background.

After doing some research, we realized that SEI had a long tradition of helping veterans SEI. SEI in general, some of our EPS committee members have helped out various veteran organizations, especially veteran organizations that were actually sponsoring hunting trips for wounded veterans. We also had a junior military officer program in the past to help with bringing in more veteran leadership. So all of this together, we wanted to pull together so that we could actually make a difference as one organization. It was not known as SEI Salutes up until about four years ago. Around four years ago, the workforce development team joined our cause with programs to assist in helping the SEI workforce by working with the organization identified positions and hopefully match up veterans to open positions. Melissa?

Melissa Myers: Our SEI Salutes team's dedicated to helping the soldiers, sailors, and Marines. And we're committed to providing a safe and engaging and stimulating environment, which encourages the recruitment and the retention of veterans and their families, which we think is key. We focus on two main areas. We want focus on the veteran and their families through the employment and retention as well as through the philanthropic and community focused activities. Our goals are basically to increase the knowledge and raise awareness of our SEI veterans and military family members and their allies. We like to try to educate the SEI community on the benefits of employing and working with veterans and military personnel.

Krista Deguffroy: Wow. Tom, you shared starting about 10 years ago, and Melissa, what you shared about the evolution. It sounds like the mission has really taken a different course over the past couple of years. As leaders of the group, where do you think the most opportunity lies in terms of making an impact?

Melissa Myers: Sure. Like I said, in my previous point, we want to educate people a little bit more on the stereotypes about military, and maybe hopefully changing some of those negative stereotypes that tend to follow military service members. Sometimes they can be associated with people being rigid or too structured, maybe not necessarily innovative, which for us is a false narrative. Anything we can do to educate about this is encouraged. So we try to get more managers and leaders involved so they can see the true potential in hiring veterans. We also don't want to forget about their families that are often dealing with the stresses of today. Sometimes as a what we like to call quasi single parent family member, because their loved one is serving in a hot zone, which can also be stressful. And they're dealing with the stresses of virtual classes, not knowing where the loved ones are, and the condition that they're in. It's the ultimate form of multitasking.

Tom Palmer: Krista, there's about 200,000 service members transition to civilian life every year. Some veterans may struggle to find civilian employment after they get out of the military. For example, veterans may not know how his or her military training could apply to the civilian world. So we're trying to do everything we can to assist in helping them make that transition. Helping other veterans while adding to the talent already at SEI is a big piece of what we're trying to do. And it's not just finding talent, but it's also retaining the talent. Just like all of the various programs here at SEI, once we bring them in, it's also making sure they can acclimate to the unique work environment of SEI.

We have 18-year-old women and men that join the military and get hands-on experience with technologies while learning leadership in the military and time management skills that we at SEI actually send a lot of our people to schooling to go and get that experience. At the same time, like Melissa had mentioned, they're being left behind by many of their peers because as they go off to college, SEI has a direct line to those potential employees coming straight from college. So we have people that are in the military. We see these resumes coming in from people from the military that have experience working with multi-million dollar aircrafts and basically leading entire divisions and platoons of people. And then they come to SEI and start an entry-level position, and it's hard for them to sometimes transition. So we're trying to do whatever we can to basically help them.

It also does not help that, like Melissa said, many of the veterans and their families have to deal with the harsh realities of conflicts that they have to deal with. So a lot of the military that are coming out are not only coming out physically damaged because they were in the military, but they come out with issues with mental health. So we're trying to do whatever we can to help with the high suicide numbers of veterans outside in our community as well as making sure they have a good place to work.

Melissa Myers: One of the things that I wanted to mention as part of our educational goals is that we started what we call a speaker series last year. I'm not sure how many people were able to participate when we had Jas Boothe in the office last November. She is a founder of Final Salute, a company that's geared towards helping single female veterans with children. Because it was her own personal experience that when she separated from the military, as a single mother, she didn't have a whole lot of support that she could find. There were organizations that assisted veterans, but not necessarily female veterans and then female veterans with children and the unique needs that they have. So she gave a great speech on her experience and then the organization that she created.

And then this year, we have two speakers next week. Dr. Celia, and I apologize because I'm going to butcher her name. It's, I believe, pronounced Bellwatch. She is a female cadet and a West Point graduates, and she's going to speak on her experiences. And we also have Chief Jonathan Stone, who served in the Navy and had an extremely trying time in his life because his wife was diagnosed with cancer. So they were trying to go through her treatments, raise their kids, at the same time stay positive. So he's going to speak on his experiences through all of that and maintain a good, positive outlook.

Krista Deguffroy: So you both mentioned a little bit in your responses about the importance of transition. I'd love to ask if you could share some examples about how SEI Salutes helps veterans and their families transition into the workforce.

Tom Palmer: SEI is actually a founding member of the Philadelphia Salutes Coalition. We actually have hosted some of their meetings in the past. And the whole objective behind the Solutes Coalition is to get people the assistance they need, people being veterans, the assistance they need to make that transition from military life into a civilian workforce. SEI also started working with Hiring Our Heroes and the SkillBridge program back in 2018 to find ways to transition active duty military to roles at SEI. It's a fellowship program, essentially, where the military actually is allowing SEI to employ them while they're still serving in the military with the intention of them, of course, ending their time with the military. So they are actually working almost like an intern with SEI. That's being spearheaded by our Workforce Development Group, specifically Pam Sharkey. She's also a critical member of our SEI Salutes team, so we're lucky to have her on board. We hired our first employee with that program last year and we have two more in the pipeline for 2020.

Melissa Myers: I can actually speak to one of those people that's in the pipeline for 2020. He's working on our team and I am his, I guess you could call me his mentor, his main connection to the team. And so far, it's working out great. He's slowly transitioning to the end of his time. He's looking forward to hopefully getting a full-time position, if not with SEI, somewhere else in the military friendly community.

One of the other things we wanted to mention was what we have called the Battle Buddy Program, which is similar to what I had mentioned. We can assign a SEI veteran as what's considered a battle buddy. They act as a mentor to help them transition from military life, and adjust and get used to and understand maybe the lingo of how things go at SEI. And we act as a sponsor, we assist them. It can be assigned by team units or military branches, same sex. I want to say we just recently put it into place for a female service member. I think we found another woman that was able to be her battle buddy, I believe, Tom.

Tom Palmer: Yeah, we did just recently.

Melissa Myers: So it all depends on if they want to participate. Obviously we're not going to force it on them. And then what they feel would be the most help for them. So far, it's been very successful. And then help them translate their military experiences and skills needed into what can be productive at SEI. Because I know from my own personal experience, sometimes it can be difficult to do that when you have a job that's extremely unique and not very civilian oriented at all. Sometimes you have difficulty valuing yourself and what you can add.

Krista Deguffroy: So I wanted to ask you guys a question. Because we mentioned there about the military friendly community. SEI has been named a military friendly employer since 2017. And while I really get excited about that external recognition, I'd love to ask you what that recognition means to you, and how maybe you think that's reinforced within our SEI community.

Melissa Myers: Well, firstly, we want to start by thanking you and the rest of the SEI workforce development team for the work that you do for SEI Salutes and promoting this recognition. Because it feels like we are making a difference and I think it shows. We have senior management and a workforce development team that believes in and supports the military, and it's definitely a plus for our cause. We can't thank everyone enough for their support and their encouragement.

Tom Palmer: The visibility that we're getting out of that is great. We're seeing people reach out to us from throughout SEI, including now even our remote offices, which is great. We're starting to find veterans that are actually working in UK and in Canada. So we're growing, and a lot of that is due to the recognition, basically all the recognition. Thank you, Krista, and the rest of your team.

Krista Deguffroy: No, thank you guys. One of the things that I really appreciate about SEI Salutes is how active the team is, not just within the walls of SEI, but also in the community. Can you maybe share some of the community programs that SEI Salutes has engaged in and maybe one of your fondest memories?

Melissa Myers: So one of my fondest memories was shortly after I joined SEI and then joined the SEO Salutes team was the initiative that we did last year with Liberty USO, who's based out of Philadelphia International Airport. We had an amazingly successful initiative where we collected care packages for shipping to service members. And the USO, being based in Philadelphia, actively located local recipients that were deployed overseas so that locally collected items could be given to local recipients, essentially, that were outside of the boundaries of the United States.

We like the USO because they have a great mission. The dedication that they have at Philadelphia International Airport is amazing. Every time I fly, I end up walking by the location that they have where you can get a change of clothes, the fresh shower, food. They can help you out with basic toiletries, things like that. One of the things we didn't realize until they came to our office and spoke last May was how dedicated they are to Mortuary Affairs Operations at the Dover Air Force Base. They have a commitment to ensure the dignity, honor, and respect to the fallen and the care service and support to their families.

Tom, is there anything you wanted to add?

Tom Palmer: No. That's a really good point, where we are located in the greater Philadelphia area. And of course, Philadelphia's location to Dover and their essential role in helping bring back fallen loved ones and supporting their families is great. So it is a national organization, but we do work with a local chapter.

The one thing I would say, Krista, for me was when we had battle service dogs come into SEI. I believe it was two years ago, right around this time. And of course, it snowed that day. And we brought some dogs in from Tampa Bay. One of them actually went on the flight, and we were lucky enough at SEI to have them train that dog for the very first time going on a flight. But they came in and had a dog. In fact, Sophie Valor came and presented in front of the amphitheater, basically showing SEI what they do. Valor Service Dogs helps wounded veterans gain their independence by partnering them with service dogs. Another mission of theirs is also bringing awareness not only to the fact that it's giving back that independence to a veteran. It also is to train us, the general public, that these are service dogs, and how to actually help that particular veteran when we're in public. And not just for veterans, but any service dog. But how to treat them in a public environment.

Krista Deguffroy: Before we wrap up today, I want to say, we started our conversation talking about how these team members were coming together, sharing resources and a shared mission. I'd like to ask you both if there's any public resources outside of SEI that provide information or guidance to veterans that you'd like our listeners to know about.

Tom Palmer: Yeah. There are some challenges in finding them, especially if you don't actually know where to look. We're very lucky, though, because in the last couple years, federal law requires the Department of Defense to establish centers to provide help to veterans to do that transition. There are employment assistance centers at military installations worldwide. About 90% of those installations, from our research, are actually being used. So it's good to see. In the past, those numbers were extremely low. So to find out about 90% of the people transitioning are using those services is great. For the most part, you can actually go to any local base. But I'll let Melissa get into some more details.

Melissa Myers: There's also the Greater Philadelphia Veterans Network that can assist with the entire lifecycle of professional careers. And because we like our local organization so much, we recently came in contact with the Montgomery County Veterans Center, which is part of the Department of VA. They're located in Norristown, and there's also service centers located at the Dover Air Force Base and in New Jersey at Joint Base McGuire-Dix-Lakehurst. The organization I mentioned in Norristown is service-oriented. They do things like assist with career preparation interviews. They can connect you with whatever special needs you may have, the other organizations that could assist you.

Krista Deguffroy: Thank you both. I appreciate your time today, Tom and Melissa. Most importantly, thank you both and all of our veterans across the world for their service. We certainly appreciate it and we look forward to celebrating Veterans Day and Remembrance Day.

Melissa Myers: Thank you.

Tom Palmer: Thanks for having us.

Announcer: Thanks for joining us again for this special episode in honor of our veterans. Stay tuned for more conversations with members of our community. Until next time, stay well. And of course, we hope you'll meet us back at The Intersection soon.
More from The Intersection.
Join us for more discussions from thought leaders and movers and shakers on what's shaping the future of business, community, and culture.